Original Size - 10 3/4 x 15 1/4
Acrylic on Canvas
Inquires,
please call 808-936-2568
Also Available In
Cards -
5 x 7 with envelope
Prints -
6 x 8 with 8 x 10 Double Mat
8 x 12 with 12 x 16 Double Mat
11 x 14 with 16 x 20 Double Mat
Giclee - 9 x 12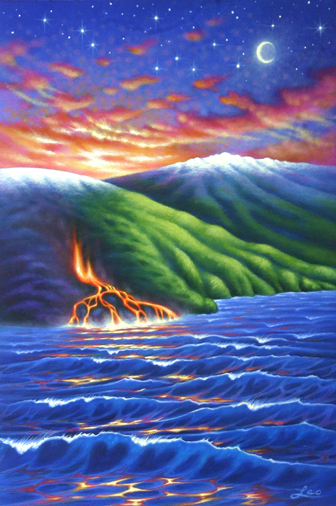 Description:
Within Kalapana rests the heart of Puna, a heart that is warmed by Aloha that can be felt throughout this quiet community. To walk, ride a bike or go for a gentle cruise in your car along the country road that residents refer to as "The Red Road", is a wonderful way to acquaint yourself with the Puna Coastline. Spend a day discovering the Puna District. It's black sand beaches are tucked away, but they are here for the discovering. Where the lava has poured into the sea, the gift of deep tide pools are to be found in many lovely spots along this coast, many of which are warmed by the depths of volcanic energy that is always a part of the very essence of life here on the Big Island.
..