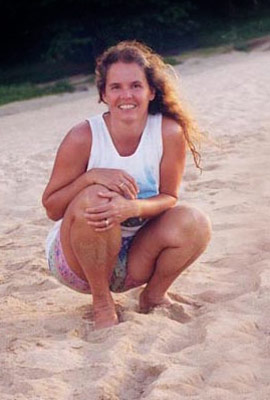 "Throughout my life I have felt the inspiration to create. This has given me an inner focus that voices itself in my paintings. I've always had a very strong connection with my imagination. In quiet moments and in dreamtime, images reveal themselves to me. This inspiration is fired by a passion for the beauty of life, this planet and this existence. Painting is my joyous self-expression that allows me the opportunity to delve into my reflective self, my personal meditation."
Innovative, original and enchanting is how I describe the style of self-taught artist, Patricia Leo. She has combined many fresh new ideas to her canvas while maintaning the traditonal techniques used by the masters. Patricia shares with us her vision of a realistic world drenched in a fantasy of her own that is recognizable to us all. Her attention to the detail of Hawaii's flora exemplifies her appreciation of the environment that surrounds her. Colors are vivid and light travels throughout her paintings, giving them movement of life and her own individual quality of magic. All of Patricia's work is handcrafted. There is no digital enhancement, airbrush or photography involved in any of her original paintings.
"My father was a draftsman who spent much of his time rendeering and drawing up house plans. Being by his side in his home office, he always offered me the freedom to use his art supplies and a place right by him to work on my own.
Growing up in Ottawa, Canada had not afforded me the opportunity to see the ocean till the age of 16. Needless to say this was more that a thrill and had a large effect on my life. It became an affirmation of a true desire to always be near the sea."
Upon arriving on the island of Kauai in 1974, it didn't take Patricia long to realize that Hawaii was where she wanted to make her home. Patricia's early adventures in Hawaii of camping and roughing it for a short while led her to Taylor Camp, a then little known tree-house community on the north shore of Kauai, nestled in a Ironwood and Kamani rain forest. http://taylorcampkauai.com "Camp property extended all the way to the beach, with Limahuli stream running right thru the middle. This was a very special time for me, being totally immersed in the beauty of Kauai. This is where I met Andy. We were married in 1977 in Hanalei town and began our family. Two years later, with our son Joshua, we made our move over to the Big Island of Hawaii. Now it's 33 years later and we're still here at the end of the road, in a rain forest. My studio is within our home and inspiration comes to me from living amongst tall trees, flowers, birds, fresh air and the peace of this gentle environment.
At this stage and time in man's evolution, too much of our natural beauty and resources are being exploited and destroyed. We must maintain a global consciousness and guide ourselves toward the protection of our entire planet.