Description
The "Champagne Pond", is a huge geothermal heated warm pond. Snorkeling in these calm warm waters is an unforgettable experience. An occasional sea turtle and colorful tropical fish will further your enjoyment. It is a pool that was carved out of lava along the Big Island's eastern coast. What makes it unique is the warm fresh water springs from underground that combine with cool ocean water splashing over its sea walls, creating a lovely brackish warm pond. Lounging in the warm geothermal heated pond is a popular pastime in Kapoho.
Original Size - 20 x 24
Acrylic on Canvas
Inquires, please call 808-936-2568
Also Available In
Giclee - Cards - Prints,
(print sizes below)
6x8 with 8 x 10 Double Mat
8x12 with 12 x 16 Double Mat
11x14 with 16 x 20 Double Mat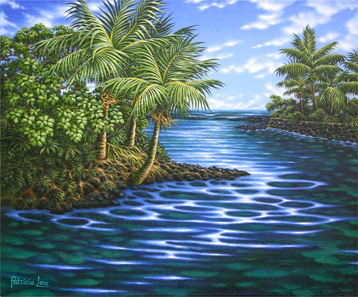 ..