Original Size - 28 x 36
Acrylic on Canvas
Inquires,
please call 808-936-2568
Also Available In
Cards -
5 x 7 with envelope
Prints -
6 x 8 with 8 x 10 Double Mat
8 x 12 with 12 x 16 Double Mat
11 x 14 with 16 x 20 Double Mat
Giclee: 18 x 22 and 28 x 38
Mouse Pad
Mug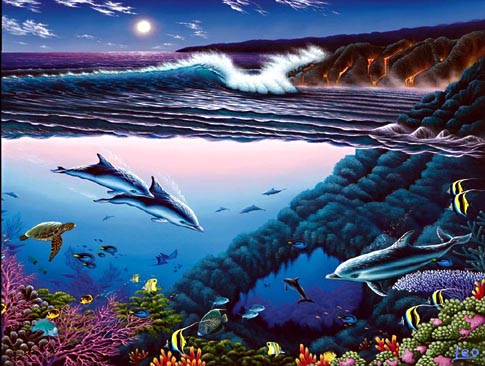 Description: While Pele's (fire goddess of Hawaii's volcanoes) destruction is obvious, as she takes away the beauty that we have come to love. I feel its' good to remember that creation is as much a part of the lava flow as well. It is these flows that created the beauty that we so hate to see her take away. This painting is an attempt to show her creation of beauty that she does as well.
..