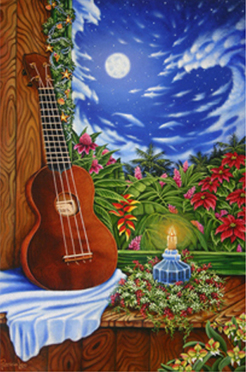 Kamele O Mahealani is one of 16 Christmas cards in my Christmas collection.
It was painted in 2010, honoring the Ukulele. The ukulele originated in the
19th century as a Hawaiian adaptation of the Portuguese machete, a small
guitar-like instrument, which was introduced to Hawaii by Portuguese immigrants,
mainly from Madeira and the Azores.
Original Size - 24 x 36
Acrylic on Canvas
Inquires, please call
808-936-2568 or
emai > leo@leosart.com
Also Available In
Giclee - Cards - Prints,
(print sizes below)
6x8 with 8 x 10 Double Mat
8x12 with 12 x 16 Double Mat
11x14 with 16 x 20 Double Mat
..